MEMBERS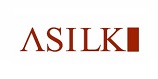 Taizhou Asilk Dress Co., Ltd.
MEMBERS
Taizhou Asilk Dress Co., Ltd was established in 1989. It is located in the embroidery base —Taizhou Jiaobei, where the art of "Taizhou embroidery" is known as the intangible cultural heritage of Zhejiang Province.
For years, the company sticks to the strategy of "Cultural industrialization" that it is believed the best to protect and succeed the traditional Taizhou embroidery culture.
The brand ASILK which integrates the two nation cultural elements of embroidery and silk, is an effective promotion to the national identity.
The peculiar culture resources, professional management team and strong design and development abilities have enabled Asilk to achieve the leading position in the industry of silk garments with hand embroidery across the country at present.
The company has been awarded the titles of "NATIONAL CULTURAL INDUSTRY DEMONSTRATION BASE", "KEY ENTERPRISES FOR CULTURAL EXPORTS IN ZHEJIANG PROVINCE", "TOP 100 CULTURAL ENTERPRISES IN ZHEJIANG PROVINCE", as well as "THE PATENT MODEL ENTERPRISE IN ZHEJIANG PROVINCE".
ASILK is named as the provincial famous trademark, registered in more than twenty countries and areas around the world. The handmade silk embroidery products of ASILK are regarded as "THE BEST GIFTS IN CITIES OF ZHEJIANG". The company has established its selling network covering major cities across China, based on the airport duty-free, upscale department stores, high-end hotels, and major tourist attractions to provide products with Chinese cultural features for global consumers.
We will, as always, integrate cultural resources, to build distinguishing cultural brand. Enhance the inheritance protection of traditional culture by industrialization. In this way to carry forward the traditional Chinese culture and promote Chinese embroidery and silk to the world.