MEMBERS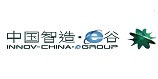 Brief Introduction to Innovation (China) Ltd.
MEMBERS
Innovation (China) Ltd., a wholly foreign-owned enterprise registered in Tianjin Binhai New Area, invests on three main fields: development, construction and operation of creative industry park and real estate, incubation service for creative industry, and investment banks & funds. It's registered capital reaches USD30,000,000. Currently Innovation China owns more than 80 staff, above 270,000 ㎡ of purchased land on hand and about 600,000 ㎡ on contract.
INNOV-CHINA E GROUP is developing a creative industries cluster of creative, innovative and ventural enterprises. It provides both hardware and software service facilities for its clients. For hardware conditions, people may enjoy a physical space, property platform and service facilities, and at the same time they may be satisfied with shared information resources, technical exchanges, commercial co-operation, as well as financial service of Angel, VC and PE. In the near future, INNOV-CHINA E GROUP will give its great contribution to the local development area.
INNOV-CHINA E GROUP, with its novel and unique design concept, will present a totally new complex industrial park, and will be taken as the name card of Tianjin City.